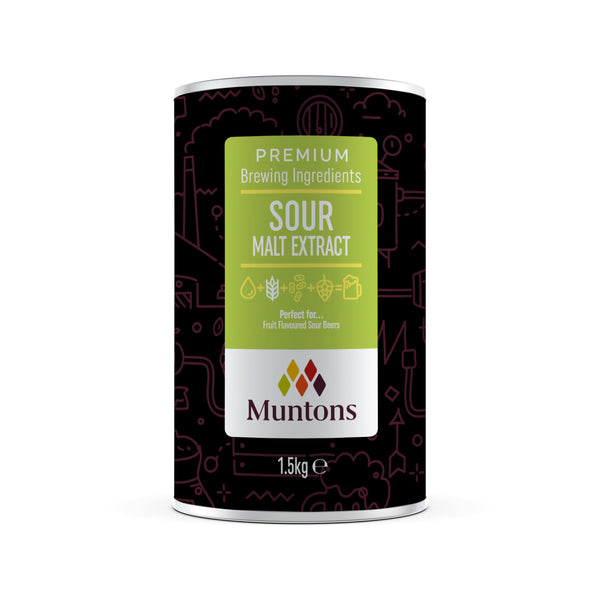 Malt Extract Sour - Unlock the Art of Brewing Unique Fruit-Flavoured Sours (1.5 kg | 3.3 lb)
Regular price
$22.95
Sale price
$27.95
Craft the Tart. 
Dive deep into the art of brewing with our Sour Malt Extract. This key ingredient is your passport to crafting remarkable fruit-flavoured sour beers tailored to tantalize your taste buds. Whether inspired by our expertly curated blends or blaze your trail with custom recipes, this extract is the secret to the elevated body, mouthfeel, and impeccable malt balance that dances perfectly with citrus and fruity notes. Stand shoulder to shoulder with the pioneering brewers who are reshaping the world of sour beers.
Key Features:
Effortless Sour Creations: Craft tantalizing sour beers at home without the complexity, thanks to our refined blend.
Endless Brewing Opportunities: Our malt extract seamlessly fits whether you're creating a wort or mixing with an all-grain brew, paving the way for unparalleled sour beer adventures.
Harmonious Flavour Profile: Ensure every sip boasts a balanced malt taste, elevating your brew's fruity and citrusy undertones.
Amplify Your Brew: Boost the volume, body, and mouthfeel of your beers, making each drink a memorable experience.
Trend Aligned Brewing: Be at the forefront of brewing innovation, using an extract that echoes the flavours and techniques favoured by today's craft brewers.
FAQs:
Q: Is the Sour Malt Extract versatile enough for all-grain and extract brewing methods? A: Definitely! Our extract is crafted to augment both all-grain and extract recipes, granting you the ultimate brewing flexibility.
Q: What's the secret behind achieving a genuine fruit-flavoured sour beer with this extract? A: Our meticulously chosen blend lets you seamlessly infuse your brew with authentic fruit flavours, whether adding it to a wort or mixing it with an all-grain concoction.
Q: Are there specific flavours that the Sour Malt Extract accentuates? A: Our extract's malt profile beautifully accentuates citrus and fruity flavours, letting you experiment and discover your perfect fruit-sour harmony.
Q: Can I add a personal twist to my sour beers using this extract? A: Absolutely! Our extract is your canvas. Paint your unique flavour stories, crafting sour beers that are distinctively yours.
Dabble in the art of unique fruit-flavoured sour beers with our Sour Malt Extract. Journey through crafting, tasting, and refining, ensuring every glass poured is a testament to your brewing artistry. Embrace the nuanced flavours, balance, and vibrancy, and take pride in every brew that finds its genesis in our Sour Malt Extract. Cheers to exquisite brewing!
Note: Equipment and supplies are sold separately, packaged in the UK.