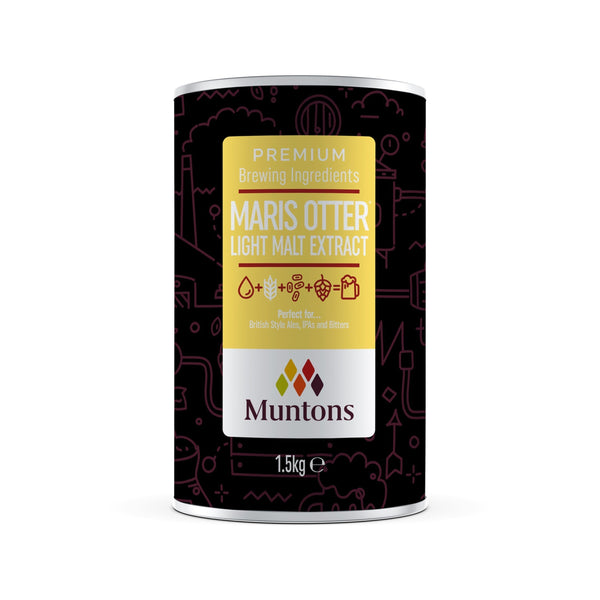 Malt Extract Maris Otter Light - Elevate Your Brewing with Balanced Flavours (1.5 kg | 3.3 lb)
Regular price
$22.95
Sale price
$27.95
Craft. Brew. Savour. 
Dive deep into the brewing universe with Muntons Medium Malt Extract, your trusty companion for crafting tantalizing dark ales and beers. Evolve your brew, reflecting your distinct taste and flair, by merging with other ingredients or hopping to your heart's content. Whether looking to bolster your all-grain ventures or seeking that immaculate balance in extract brews, our malt extract scales up the volume, body, and mouthfeel without overshadowing your drink's intrinsic essence. With a penchant for harmonizing with brown ales and British-inspired IPAs, our malt extract is your ticket to brewing greatness. Whether reimagining age-old recipes or forging a trail of new tastes, Muntons stands with you in every sip of innovation.
Key Features:
Dynamic Brewing Foundation: Tailored for dark ales and beers, unveiling deep, captivating flavours.
Elevated Brewing Experience: Seamlessly integrates with all-grain and extract methods, adding volume and refining the beer's body.
Harmonious Malt Profile: Achieves the golden balance in maltiness, uplifting brown ales and British IPAs.
Brewer's Best Friend: Paves the way for avant-garde brewing, echoing the innovative spirit of global craft brewers.
Crafted for Creativity: Encourages bespoke beer formulations, adding layers of complexity and taste.
FAQs:
Q: Is Muntons Medium Malt Extract apt for all-grain and extract brewing? A: Certainly! Our malt extract is engineered for versatility, complementing both brewing techniques and allowing you to unleash your brewing prowess.
Q: How does the malt extract enhance the tactile experience of the beer? A: Our malt extract augments the beer's volume and texture, offering a fuller mouthfeel and a richer sipping journey.
Q: What beer variants resonate best with this malt extract? A: Our malt extract is a perfect mate for brown ales and British-centric IPAs, adding depth and character to these brews.
Q: Can I recalibrate my beer concoctions using this malt extract? A: Absolutely! Our malt extract is a canvas for your brewing artistry. Sculpt your recipes, dabble with diverse ingredients, and craft a beer that's uniquely yours.
Elevate every brewing chapter with Muntons Medium Malt Extract. Create mesmerizing dark ales and beers, and celebrate every flavourful revelation. Engage with the brewing tapestry, add our malt extract, and witness the magic unfold. Here's to every brewer's aspiration and every beer lover's delight! Cheers!
Note: Equipment and supplies are sold separately, packaged in the UK.