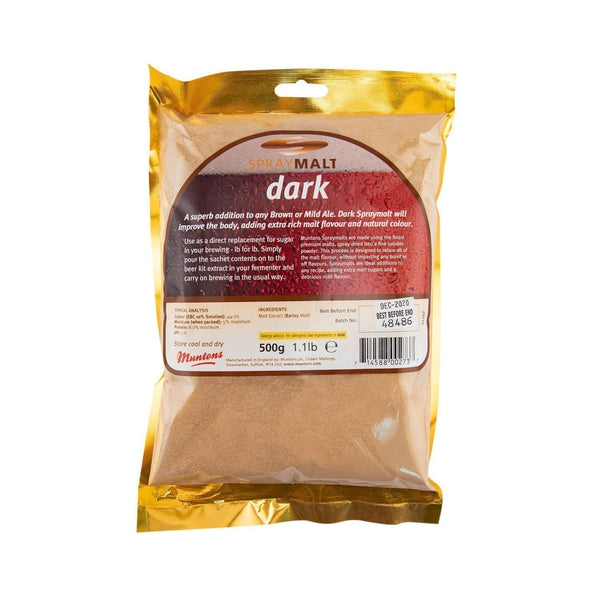 Spraymalt Dark | Enhance Your Stout, Porter, or Brown Ale (500 g | 1.1 Lb)
Craft, Sip, Repeat. With a Dark Twist.  
Meet Spraymalt Dark, the game-changing component your dark beer repertoire has been missing. Expertly transformed from superior malts into a finely spray-dried powder, it's the golden key to unlocking the deep, rich flavour notes of your Stout, Porter, or Brown Ale.
Homebrewers, if a robust malt taste and a visually appealing dark hue are on your brewing checklist, Spraymalt Dark is the answer. With its capacity to enrich the essence, body, and overall oomph of your dark beers, you're not just brewing but creating an experience.
Consider a 50/50 mix of Spraymalt Dark and sugar for an elite brewing outcome. This blend isn't just a combination; it's an elevation, adding layers of depth and an allure that resonates with every sip.
Spraymalt Dark isn't merely an alternative to sugar; it's an upgrade. An ordinary beer kit transforms into a symphony of complexity and flavour by substituting sugar. And for those keeping sugar in the equation, adding Spraymalt Dark ensures your beer boasts an approximately 20% uptick in body, ensuring every sip is robust and delightful.
Embrace Spraymalt Dark for its unmatched quality, flavour-rich profile, and prowess in amplifying your dark beers' charm. With Spraymalt Dark, every brew becomes a testament to your craft.
Key Features:
Supreme Solubility: Born from top-grade malts, Spraymalt Dark promises effortless blending, making brewing feel like second nature.
Malty Majesty: Dive into the deep malt flavours, perfect for adding character to your Stout, Porter, or Brown Ale.
Dark Enchantment: Reward your brews with an enticing dark shade, ensuring visual and taste satisfaction.
Augmented Body & Essence: With Spraymalt Dark, every beer achieves an enhanced depth, body, and flavour profile.
Optimized Sugar Blend: A 50/50 concoction with sugar transforms the quality and persona of your beer.
Sugar's Superior: Move beyond traditional sugar, letting Spraymalt Dark refine your brew into a premium masterpiece.
Body Fortification: Adding Spraymalt Dark to your brew boosts body strength by a substantial 20%, making every sip memorable. 
FAQs:
Q: What is the correct dosage of Spraymalt Dark for my brew? A: Aim for Spraymalt Dark to comprise 50% of your recipe's fermentable sugars. Tailor the proportion based on your desired taste and texture balance.
Q: Can Spraymalt Dark be the solo act without sugar? A: Absolutely! Spraymalt Dark can shine on its own, enriching your beer's malt essence and hue. However, pairing with sugar is recommended for optimal body and flavour amplification.
Q: Is Spraymalt Dark a universal fit for all dark beers? A: Spraymalt Dark is the champion for Stout, Porter, and Brown Ale brews. It elevates these beer styles with its rich malt flavour and defining dark shade, promising a beer journey like no other.
Unfold the dark, flavourful chapters of brewing with Spraymalt Dark – where every sip tells a story.
Note: Equipment and supplies are sold separately, packaged in the UK.