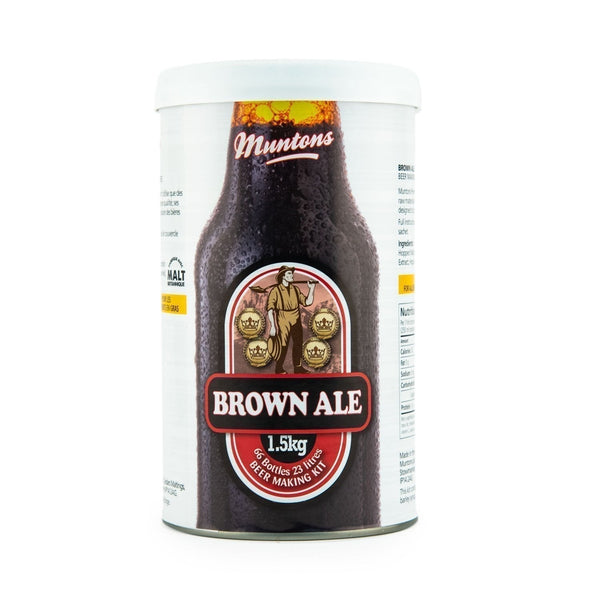 Premium Range Brown Ale | Full-Bodied and Satisfyingly Hoppy (1.5 kg | 3.3 Lb)
Regular price
$29.95
Sale price
$34.95
Sip. Savor. Revel.  
Dive into an ocean of flavours with our Premium Range Brown Ale, reflecting the rich tapestry of hop-infused goodness. This master-crafted beer promises a journey of full-bodied richness that lingers, ensuring every sip is a tryst with hoppy perfection. Elevate your beer saga with this symphony of taste.
Key Features:
A Depth of Flavour: Embrace the layers of rich complexity that our Premium Range Brown Ale unfolds with each mouthful.
Hoppy Harmony: A flawless interplay of hop bitterness and malt undertones, offering a lasting, satisfying taste.
Measured Perfection: An original gravity (OG) between 1036° to 1040° strikes the right chord of balance and full-bodied depth.
Brew Enthusiast's Dream: Its robust character matches the expectations of those who value beers with profound narratives.
Generous Brew Bounty: At 1.5 kg (3.3 Lb), it guarantees ample portions for your brewing sessions, ensuring the brew joy multiplies when shared.
FAQs:
Q: Looking to tweak the Premium Range Brown Ale's essence? A: Absolutely! The Premium Range Brown Ale is your canvas. Add hops, aromatic spices, or specialty grains for a unique rendition that's truly yours.
Q: What's the brewing timeline for this rich ale? A: Our Premium Range Brown Ale usually requires 7 to 10 days for fermentation. Do note environmental factors like temperature and yeast dynamics can affect this.
Q: What is the best temperature to relish the Premium Range Brown Ale? A: For an impeccable tasting experience, serve the Premium Range Brown Ale at cellar temperatures, roughly 12 to 14°C (54 to 57°F). This ensures a full bloom of its intricate flavours.
Embark on a brewing journey characterized by depth, hop richness, and unmatched flavour with our Premium Range Brown Ale. Here's to moments worth cherishing with every sip! Cheers!
Note: Equipment and supplies are sold separately, packaged in the UK.