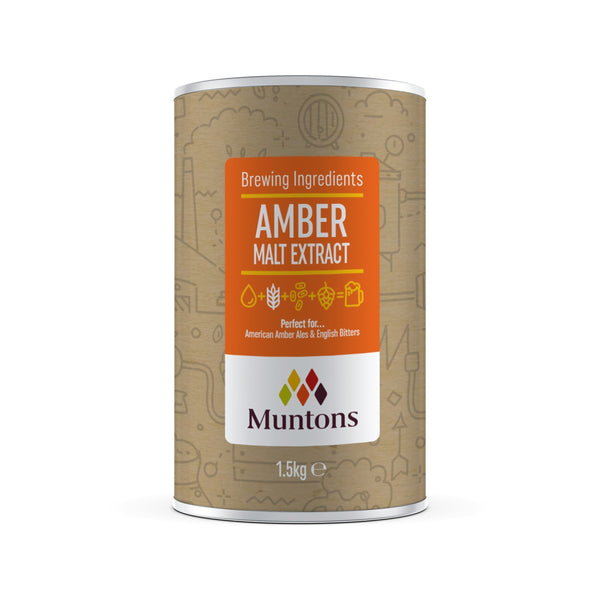 Malt Extract Amber - Craft Exceptional American Amber Ales and English Bitters (1.5 kg | 3.3 lb)
Regular price
$22.95
Sale price
$27.95
Elevate Every Sip: Discover Flavorful Craft Brewing!
Experience brewing's pinnacle with the Amber Malt Extract, designed meticulously for those passionate about crafting rich American amber ales and timeless English bitters. Let our malt extract serve as your brew's foundation, either with our top-recommended blends or by channelling your inner brewmaster with a custom concoction. Whether merging it with an all-grain concoction or extract recipes, this malt extract augments volume and texture and strikes a delightful balance in malt flavours. With an affinity for citrus and fruity nuances, our Amber Malt Extract aligns seamlessly with the evolving world of craft brewing. 
Key Features:
Ale Aficionado's Choice: Perfectly calibrated for those iconic American amber ales and classic English bitters.
Adaptable Brew Essence: Catering to all-grain and extract brew methods, our malt extract complements the journey of novices and seasoned brewers alike.
Volume & Texture Amplified: Elevate your brew's character with added volume and a richer mouthfeel.
Malt Harmony: Relish a balanced malt palate, wonderfully complemented by fruity and citrus undertones.
Ahead in Craft Trends: Pioneering in craft brew innovations, our malt extract ensures your brews are always a notch above the rest.
Essential FAQs:
Q: Is the Amber Malt Extract versatile enough for all-grain and extract brews? A: Absolutely! It's crafted to gel with both brewing methods, offering unparalleled flexibility.
Q: Which flavour profiles pair best with this malt extract? A: The Amber Malt Extract matches in citrus and fruity flavours, creating a harmonious and enhanced taste profile.
Q: How does this extract contribute to my beer's volume and texture? A: Incorporating our malt extract lends your brew a more decadent volume, body, and an elevated mouthfeel, promising a fulfilling sip each time.
Q: Can I tweak my brew recipes with Amber Malt Extract? A: Indeed! Our extract's versatility offers infinite room for personalization, allowing your ales to echo your distinct taste.
Step into an enriched realm of brewing with Amber Malt Extract. Here's your key to brewing that captures the essence of distinct American amber ales and cherished English bitters. Embrace innovation, flavour, and authenticity with every brew you craft. Cheers to exemplary brewing!
Note: Equipment and supplies are sold separately, packaged in the UK.