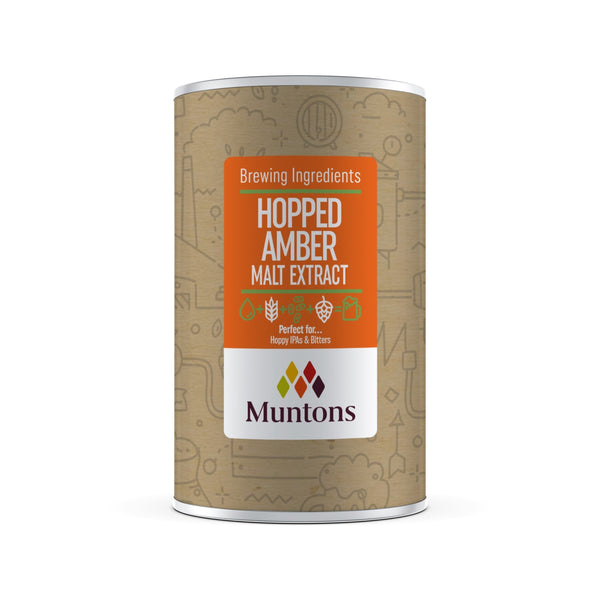 Malt Extract Hopped Amber - Elevate Your Brewing with Balanced Bitterness (1.5 kg | 3.3 lb)
Regular price
$22.95
Sale price
$27.95
Experience Balance in Every Sip!
Enter the realm of Amber beer crafting with our Hopped Amber Malt Extract. Seamlessly blending Amber malt extract with handpicked hops promises a pint that resonates with your taste and character. This malt extract lays a flawless foundation, whether channelling a classic or blazing a new trail. Its compatibility with all-grain and extract recipes means volume, body, and mouthfeel are all amplified, maintaining that desired malt harmony. With its innate synergy with citrus and fruity notes, our malt extract aligns effortlessly with the ingenuity of contemporary craft brewers. 
Key Features:
Harmonious Bitterness: Achieve balanced bitterness with a meld of Amber malt and choice hops.
Broad-Spectrum Application: Fits all-grain and extract brews, perfect for rookies and brewing veterans.
Boosted Volume & Richness: Amplify volume and body in your brews, enhancing that crucial mouthfeel.
Brewer's Playground: Unlimited room to play and craft beers that are unmistakably yours.
Tuned to Innovation: Stay updated with evolving brewing methods and flavours, ensuring your beers are always noteworthy.
FAQs:
Q: Is the Hopped Amber Malt Extract versatile for all brewing approaches? A: Yes! It's tailored for all-grain and extract brewing methods, ensuring adaptability for your brewing journey.
Q: What flavour profiles mesh with this malt extract? A: Citrus and fruity undertones blend seamlessly with our malt extract, opening doors to refreshing beer concoctions.
Q: How does it influence my beer's consistency and volume? A: Integrating this malt extract uplifts your beer's volume and body, promising a richer and more immersive drink.
Q: Is personalizing my recipes with this malt extract feasible? A: Definitely! Our extract is your canvas; mould your brews to echo your taste and individuality.
Enhance your brewing narrative with the Hopped Amber Malt Extract. Dive into the world of Amber beers that balance bitterness with finesse. Every pint echoes perfection, richness, and distinctiveness with our premium malt extract. Embrace innovation, craft standouts, and let your brews narrate tales of unmatched quality with Hopped Amber Malt Extract.
Note: Equipment and supplies are sold separately, packaged in the UK.